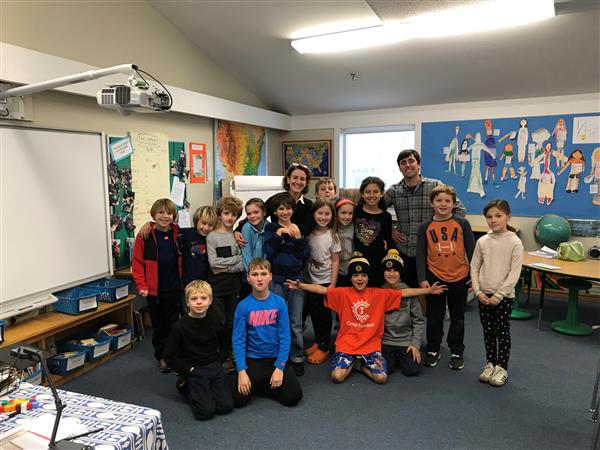 Phone: (508) 696-7738 ext. 312
Email:
Degrees and Certifications:
Bachelor of Science in Early Childhood (K-3), Elementary (1-6), and Special Needs (N-9) from Wheelock College Masters in Counseling Psychology from Lesley University
Mrs.

Lauren Serpa

Welcome to Lauren Serpa's homepage! Here you can read about the special events happening in our classroom and catch a glimpse of daily life in third grade. Enjoy!

Meet the teacher......

I used to walk around my parents' house carrying a Fisher Price schoolhouse. It had a green chalkboard that really worked, round figures that fit into desks, a bell on the roof, and a plastic handle that made it portable. I loved that little red schoolhouse. By the time I was seven I was playing schoool for hours on end, only to be interrupted by my mother bringing lunch. At age nine I was creating worksheets for a neighbor to bring home for extra skill practice. Some people are born to teach, others to be wild. I like to think of myself comfortably in between. Designing unique lessons and activities that address individual strengths and challenges is something that brings me enormous satisfaction.

Eventually, I traded in my plastic schoolhouse for the real deal. I started teaching third grade at the West Tisbury School twenty six years ago. After I had my two awesome boys, Joseph and Daniel, I wore a few different teaching hats in the school. I was a special education teacher as well as a multi-age teacher in grades 1-2. By the time my youngest son was in second grade, the moon and stars aligned, and I found my way back home: third grade.

Learning is an active experience. We learn by seeing, doing, and reinventing; and this is what we do in my classroom. If you watch closely enough, you can actually see eight and nine year old children morph into independent students! Third graders start supporting their ideas using evidence from books and hands-on activities. New discoveries are met with high fives and aha moments. Third graders never cease to amaze me in their quest to excel, create, and question the unknown.
Last Modified on November 26, 2017