7th grade- building sand castles
Posted by Lisa Magnarelli on 6/10/2020 4:00:00 AM
Hello 7th graders,
You are almost there, just a few more days then a week of fun then summer!
Firstly,
Have you all checked out, and maybe even started, the assignment...
Martha's Vineyard Striped Bass and Bluefish Derby Kids Day 2020 tee shirt contest!!
If not, you still have time.. it is due on the 22nd of June-the last day of school.
here is the link for the derby tee shirt contest..get going!!!
Next, we are getting ready for the sand castle building competition next week. Check out the rest of this post for some amazing tips to building a huge, successful sand castle.
**If you can not get to a beach (or a sand box) this week, that's fine. You can build something in your backyard. just scroll down to the next post entitled 7th grade- backyard castles***
Your job is to design and build an amazing sand castle for the challenge next week.
You will be introduced to the challenge on Tuesday (more details to follow) and all entries for the contest must be submitted by Thursday (pictures) but you can start this contest today, over the weekend, whenever works for you as long as your work is complete by Thursday. Remember to take pictures!!!
By designing first you will be prepared and ready to build it when you get to the beach. Planning is a huge part of a successful sand castle, and the more you plan the better the castle will be so get planning (but keep reading and watch the videos, they are very informative!).
Everyone loves to build sandcastles and whether you are at the beach or in the backyard sand box, this activity is awesome. Grab a bucket, some sand and some water and get building an eye-catching sandcastle today.
Why Build a Sand Castle?
Because there is a 7th grade challenge!!! And I want you to WIN!!
Sand castle building may have started as early as the 14th century in India. Others believe sand sculpture began with sand models for pyramid-building in Egypt, though there's no documentation.
In the late 19th century more "modern" sculptures started to appear on the beach in New Jersey. And then sand-building contests started to gain popularity in the 1970s in California.
Whether you build a castle for fun or have aspirations of taking on the competitive circuit, there's no reason you can't build an awesome structure!
You Will Need
Paper and pencil for castle design
Spades and/or shovels
Buckets
Carving tools from your kitchen (straws, spatula)
Castle decorations
Sand
Water
Preparation Time
30+ minutes to discuss designs and gather tools and accessories
Activity Time
1-2 hours
Location
A beach or similar location with sand and water
Ready for your sand castle adventure? Let's get started!
#1: Design Your Sand Castle
To make the best structure possible, start with a design session at home before you head to the beach.
Think about sand castles and castles in general. What books or movies have the coolest castles? What attributes should your castle have? Will you build a moat? A drawbridge? A tower? All of the above?
Design your ideal sand castle. Draw a picture of what you envision your sand castle will look like.
This design will be your blueprint for when you step onto the beach. Also consider the time you'll spend at the beach, maybe ask your adults how long you will have to build.
Keep in mind, simple doesn't mean small. Don't be afraid to go large with your design. It's much easier to sculpt and carve large amounts of sand.
#2: Gather the Right Tools
Before you head to the beach, select the right tools. It can make your life so much easier once you start to build your sand castle.
The most important tool is a lightweight shovel. Shovels with wooden handles are great, because they are less likely to crack under the strain. If family members are going to help, it is a good idea to bring a shovel for each of your sand castle builders.
In addition, you'll need at least two buckets: one to carry water and another to mix the sand and water.
****A word of warning: filling a bucket with sand and turning it over will not necessarily make the best sand castle. The reason for this is that the water in a bucket full of wet sand is not able to drain away. The sand then forms a vacuum inside the bucket and will not come out no matter how hard you pat!****
It's much easier to mix the sand and water in the bucket, scoop out large amounts of sand with your hands and sculpt from there.
To shape and detail your sand castle, you'll need some tools. Most of these can be found in your kitchen cupboards. Take a pastry knife, a trowel and similar carving tools in a variety of sizes to shape your sand castle.
Grab a plastic spatula and a soft-bristled paintbrush to smooth the sand castle's edges.
Also, pack a few plastic drinking straws. These will enable you to blow unwanted sand from your design without damaging your creation.
Finally, bring a camera or camera phone. Taking a picture of your building will help when it is time to say goodbye to your sand castle.
Take a series of snaps as the castle is being built. Once you are home, create a collage of images or a slide show.
#3: Create Your Sand Castle Decorations
This part of the building process is an adventure in itself! Start gathering decorations before you leave home and continue once you're at the beach.
Make a list. For example, if you want a flag for the castle, what materials do you need to construct it? Do you need seashells or rocks to decorate your archways and bridges? Let your imaginations run wild as you explore your home and then the beach for hardware and décor.
Remember, if you bring lots of accessories to decorate your sand castle to the beach, take them home with you when you leave.
#4: Build Your Sand Castle
Once you have your design, tools and decorations, it's time to build your sand castle, so head out to the beach or other sand-filled location.
When you get there, scout out the perfect location. Ideally, build your sand castle in a place that has easy access to water, but is far enough away from any encroaching tide.
Once you choose your location, build a large, flat base, so your castle will be stable and secure. A full-sized garden spade is useful for this step.)
Mix your sand with lots and lots of water for the best composition. Pour the water into the sand, stir until it's fully saturated, then let it drain and pat and mold the sand into the shape you want.
Water is the key to successful sand castle building. Most sand castle experts recommend you use one part water to one part sand. Always keep your sand wet and allow it to drain before compressing and sculpting.
After you have your base, build your towers.
Finally, connect the towers with walls, doorways and arches.
Once you have your basic structure, bring out your carving tools and start carving out the details for your castle.
Here are some carving basics:
Start at the top so that any loose sand doesn't spoil carving you've already done.
Use a paintbrush or straw to brush or blow away unwanted sand.
Go slowly as you carve, since it's not that easy to replace the sand if you make a mistake.
Carving allows you to create the design touches that'll really make your sand castle detailed and unique.
Smooth out the exterior of the castle and carve out brick designs or tunnels. Also add doors, windows and staircases. Carve your names into the castle and/or decorate the walls with drawings.
If you want, carve out a smooth slide around your castle. Then drop a small ball into it and watch it roll down and around your creation!
When your castle shape is to your liking, add the decorations. Then admire your masterpiece.
The most important thing to remember when you construct your castle is that perfection is overrated.
Just have fun!
Some Final Thoughts…
The perfect sand castle lies not in how grand it looks or how expertly you carve the exterior walls, it's in the fun you had throughout the building process.
Below is a link to a fantastic video on how to make a sand castle. This woman is a pro!!!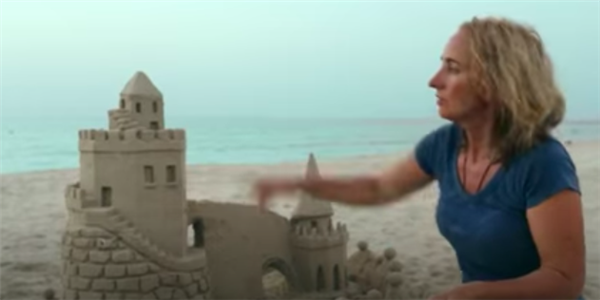 Great video on how to make a sand castle
And here is another Great video about making sand castles
What do you think? Ready to head out to the beach? When was the last time you made a sand castle? Get going and take pictures!!